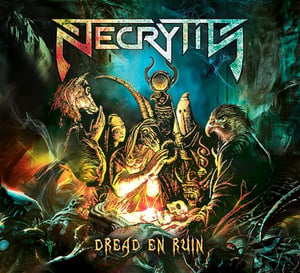 $

8.50
IN STOCK NOW!!! Pure Steel Records has released the much anticipated follow up to Necrytis's critically acclaimed 2017 debut "COUNTERSIGhNS"!
Fans of guitarist Toby Knapp's work in his former bands Onward and Where Evil Follows will be delighted to hear his full circle return to Traditional Heavy Metal!
Soaring vocals, profound lyrics and astounding drum work are all once again provided by Necrytis mastermind Shane Wacaster (Sue's Idol, ex-Pandemonium).
"Dread En Ruin" is a fifty minute non-stop progressive heavy metal powerhouse mastered by the legendary Jens Bogren (Opeth, Dimmu Borgir, Sepultura, Arch Enemy, Katatonia) and once again features the incredible artwork of JP Fournier!
" ​​D​rummer, vocalist, lyricist Shane Wacaster and Knapp ​are sharing an excellent musical chemistry together- "Dread En Ruin" is the proof. ​
Go for the album and play it loud. "Starshine" is one of the best songs released this year." -The Forgotten Scroll.net